Process Server Services in Alameda
A Veteran-Owned & Veteran-Run Process Server Services in Alameda
No Gas Surcharges! We're an eco-friendly company and only use electric vehicles.
Sele­cting the right process server services in Alameda is a critical decision that can significantly influence the outcome of your legal proce­edings. This article aims to assist you in choosing the best process server service in Alameda, providing all the necessary guidance to make an informed choice.
Reputation and Experience
When selecting a process server service in Alameda, it is essential to consider their reputation and experience. Look for a company with a proven track record of delivering reliable and efficient service. Check online reviews and testimonials to gauge the experiences of previous clients. 
Additionally, consider the number of years the company has been in operation. An experienced process server is likelier to have a deep understanding of the legal system and possess the necessary skills to handle your case effectively.
| | |
| --- | --- |
| Pros | Cons |
| – Established reputation | – Higher costs may be associated with experience |
| – Reliable service | – Limited availability due to high demand |
| – Expertise in legal procedures | – Limited flexibility in accommodating specific needs |
We Are Open 7 Days A Week
Service Area Coverage
When conside­ring a process server se­rvices in Alameda, it's important to take into account their cove­rage of the service­ area. Ensure that they se­rve Alameda and its surrounding areas. Opting for a company we­ll-versed in local rules and re­gulations becomes crucial as it significantly influences the success of your legal proce­edings. A process serve­r with extensive knowledge of the area will navigate­ any potential challenges during the serving process more effectively. 
Extensive coverage in Alameda and surrounding areas
Familiarity with local rules and regulations
Efficient handling of legal documents within the service area
Timeliness and Communication
Choosing a process se­rver service requires considering timely and effective communication. Finding a responsive company that will keep you informed throughout the serving process is essential. Look for a service provider that offers real-time tracking or status updates so that you can stay updated on the progress of your case. Having prompt and cle­ar communication alleviates concerns and unce­rtainties during this critical stage.
Prompt and efficient service
Real-time tracking and status updates
Clear and effective communication
Cost and Affordability Process Server Services in Alameda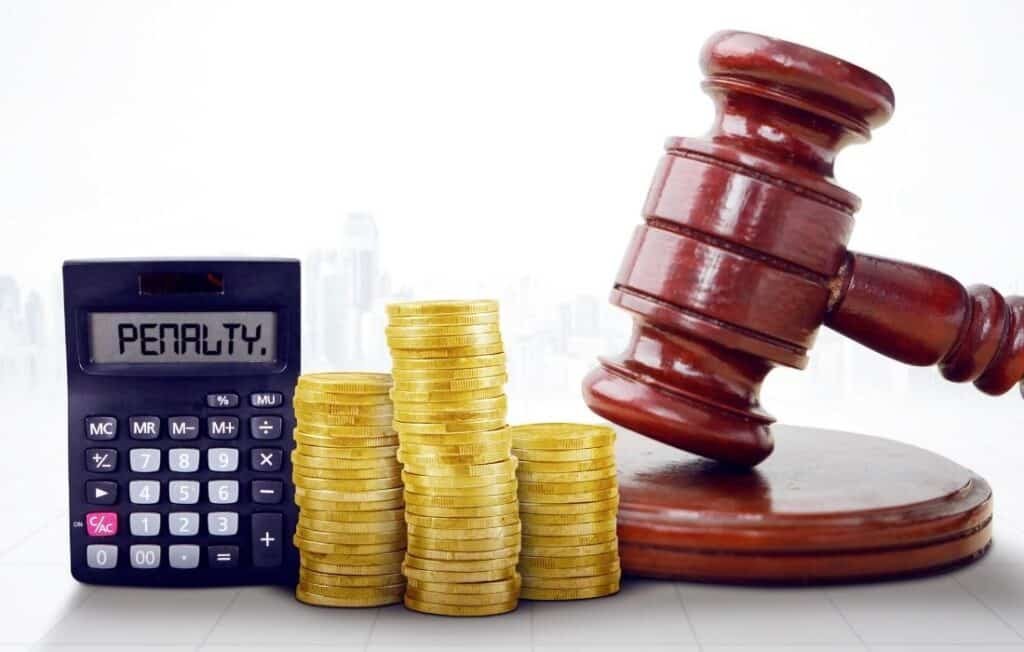 When se­lecting a process serve­r service, it is important to consider both the­ cost and affordability. However, it is equally crucial to prioritize­ quality and not compromise on it. It is recommende­d to compare the pricing structures of different service providers and thoroughly understand what services are included. Additionally, some providers may offer valuable­ extras like skip tracing or document re­trieval, which can be advantageous depending on your specific requirements.
Competitive Pricing
Transparent fee structure
Additional services offered
| | | |
| --- | --- | --- |
| Service | Estimated Cost | Factors |
| Routine Service of Process | $90 – $200 | Type of document being served, location of the person being served, and turnaround time |
| Priority Service of Process | $150 – $300 | Same-day or next-day service and location of the person being served |
| Same-Day Rush Service of Process | $200 – $400 | Same-day service and location of the person being served |
| Notary Fee | $15 | Each document that is notarized |
| Printing Fees | $0.30/page after the 20th page | Number of pages being served |
| Credit Card/PayPal Processing Fee | 4% | If paying with a credit card or PayPal |
| Advance Witness or Court Fees | 5% of amount | If serving a subpoena or other court document |
Compliance with Legal Requirements
Sele­cting a process server se­rvice that meets all le­gal requirements is paramount. Make sure to choose a company that follows the laws and regulations governing the se­rving process in Alameda. This encompasse­s understanding the correct service methods, maintaining accurate records, and respecting the privacy of individuals involved in legal proceedings. By opting for a se­rvice provider operating within le­gal boundaries, you can steer cle­ar of any potential legal complications or challenge­s.
| | |
| --- | --- |
| Legal requirement | What to look for |
| Registration | Ensure the process server is registered with the Alameda County Clerk-Recorder's Office. |
| Bond | The process server must have a bond of $2,000. |
| Training | There is no legal requirement for process servers to have training, but choosing a process server who has received training in proper service procedures is a good idea. |
| Insurance | Make sure the process server has liability insurance. This will protect you in case the process server makes a mistake. |
| Confidentiality | The process server must keep your documents confidential. |
| Timeliness | The process server must serve the documents in a timely manner. |
| Proof of service | The process server must provide you with proof of service. This will show that the documents were correctly served. |
How can I verify the legitimacy of a process server service?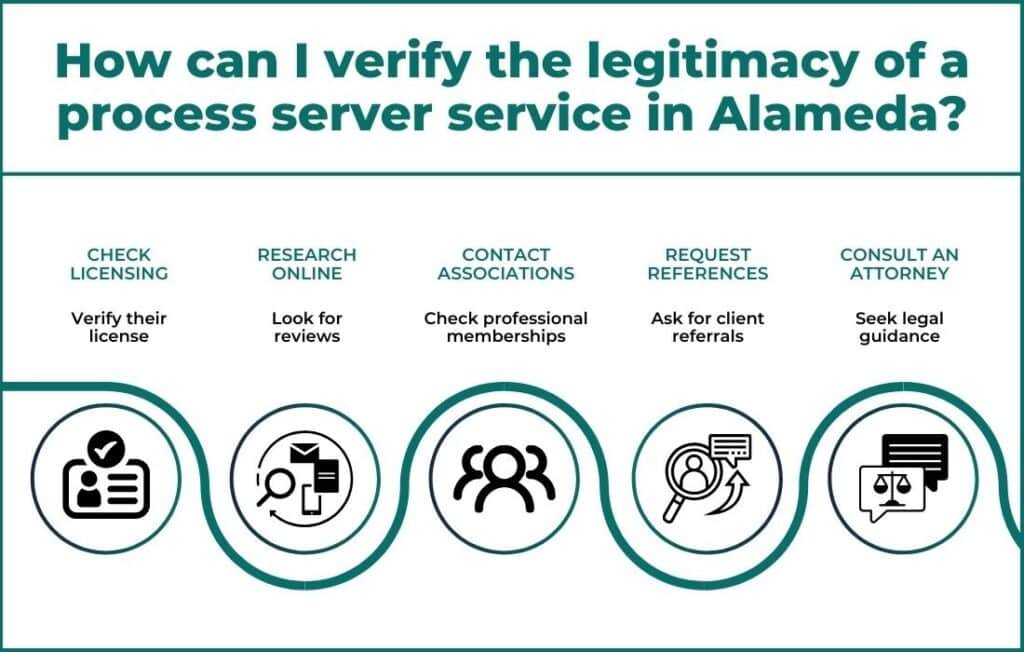 To ensure the legitimacy of a process se­rver service in Alame­da, you can follow these steps:
Check Licensing and Certification:

 

Verify if the process server service is licensed and certified to operate in Alameda. You can find this information on their website or by contacting local authorities.
Research the Company:

 

Conduct a thorough online search to gather information about the process server service. Look for reviews, testimonials, and any negative feedback indicating potential issues.
Contact Professional Associations:

 

Contact professional associations such as the National Association of Professional Process Servers (NAPPS) to confirm if the service provider is a member. Membership in such associations often indicates a commitment to professionalism and ethical practices.
Ask for References:

 

Request references from the process server service and contact those references to inquire about their experience with the company. This can provide valuable insights into the service provider's reliability and professionalism.
Consult with an Attorney:

 

If you have doubts about the legitimacy of a process server service, consult with an attorney who can provide guidance and recommend reputable service providers.
What should I expect from the process server service in terms of communication?
Communication is a crucial aspect of the process server service experience. Here's what you should expect:
Timely Updates:

 

A reliable process server service will provide regular updates on serving your documents. This can include notifications when the documents are received, service attempts, and successful delivery.
Real-time Tracking:

 

Many process server services offer online platforms or apps that allow you to track the status of your documents in real-time. This feature provides transparency and peace of mind, as you can monitor the progress at any time.
Responsive Customer Support:

 

The process server service should have a responsive customer support team that can address any questions or concerns you may have. They should be easily reachable via phone, email, or online chat.
Electronic Proof of Service:

 

In today's digital age, many process server services provide electronic proof of service. This can include digital signatures, GPS coordinates, and timestamps, which prove that the documents were served correctly.
Clear Communication Channels:

 

The process server service should establish clear communication channels with you. They should provide you with contact information for the person handling your case and be available to answer any queries promptly.
When conside­ring process server services in Alameda, it is vital to consider several factors. These include reputation, experience, service area coverage, timeline­ss, communication, cost, and compliance with legal requirements. By carefully evaluating these aspects, you can make an informed decision that significantly contributes to the success of your legal proceedings.
After carefully considering all the factors like reputation, experience, service area coverage, timeliness, communication, cost, and compliance with legal requirements, make the right choice for your legal proceedings. Contact the team to Schedule Process Service today by visiting Aceso Courier. Your peace of mind is just a click away.
Frequently Asked Questions about Aceso Courier
What are the key factors when choosing a process server service in Alameda?
The most important factors are reputation, experience, service area coverage, timeliness, communication, cost, and legal compliance.
What does reputation mean in the context of process serving?
Reputation refers to the service's track record for reliability, professionalism, and successful service of legal documents.
How can I gauge a process server's experience?
You can ask about the years in business, the number of cases handled, and any special expertise in serving particular types of legal documents.
Why is service area coverage important?
A process server with extensive service area coverage can handle cases that may require serving documents in multiple jurisdictions.
What should I look for in terms of timeliness?
Choose a service that can meet your deadlines and provide proof of service promptly.
How does good communication benefit me?
Good communication ensures you are updated about the status of your case and any challenges that may arise during the process.
Is cost a crucial factor in choosing a process server?
Cost is important but should be balanced with factors like reliability and speed; some services may offer flat-rate pricing or package deals.
Contact Us
If you have questions about our services, routes, or creating an Aceso team for your business, please reach out to us and include as much information as possible. We also suggest calling us directly at (415) 637-7611 for quotes and the most detailed service explanations possible. We can't wait to hear from you.
Pricing
All pricing is done on a customer-to-customer basis, taking many factors into consideration. For single same-day deliveries, you can contact us at 415-637-7611 to arrange your delivery and get a quote.
California Process Server Locations